Better data means better decisions. But getting the right data into the hands of the right people, at the right time is not an easy task.
How did ABUX software get involved in this? We revolutionize business planning with our affordable solution in native Excel envirolment:

Automate
Eliminate manual errors

Extend
Faster, more efficient planning and reporting

Align
Empower all the key employees

Eliminate Manual Processes
Minimize manual data collection and reconciliation. Planning on Excel-sheet is fragile caused by cell references, hyperlinks, manually loaded data.
ABUX frees your employees to focus on what matters.
Pivot Table as a surface of data loads
ABUX is capable for any functions of MS Excel – in our System  Pivot table is not only a tool for arrange and rearrange data.
Pivot table is a platform for data input: load, write-in, alter figures in Pivot and ABUX handles all the background works for the sake of aligning new data with all parts of your plan.
Create connection between real-time market trends and your strategic goals. Increase accuracy with automatic data transmission from "Single Point of Truth".
Planning frameworks can be built on driver-based and project-based: see financials and operational figures of the future in each quarter or month etc.
It can replace annual planning process.
Strategic Planning with less effort and more confidence
Free yourself from constraints of Excel-based planning. Build better strategic financial plans with faster access to more accurate data.
ABUX eases planning with the ability of OLAP cube: unlimited numbers of dimensions and hierarchies in reports, handling parallel versions of plans, datadrilling till source.
After the implementation process of ABUX there is no need for additonal presence of consultants. We teach you how to navigate amoung several planning and analyzing functions.
Based on your package, licence fee is not required. Tailor your ABUX system as you wish.
Improve Collaboration & Workflow
ABUX could be a process management software for better financial collaboration and faster budgeting, planning and forecasting.
Scheduled report sending function, managable size of reports, templates for input data, automatized daily or weekly reporting – all these functions help staff to free their time and focus on core business related questions.
Closing as a routine task
Financial close and consolidation typically relies on too many manual processes, complex Excel sheets, e-mails and huge manual works for gather and organise data.
ABUX offers a "Single Source of Truth" to drives every close.
We are capable to automatize manual steps. Example:  We classify invoices alternatively based on criterias of consolidation at the moment of accounting (without altering anything in your accounting system).
Do you wan to see the impact of "what-if" scenarios on financial plans, forecasts, and strategies?
ABUX is a self-service BI system. After implementation you will be able to create quick plans to explore options with confidence.
Presentation-ready reports
As an optional choice we connect your ABUX to Microsoft Power BI, as a professional and affordable visualizaton BI tool. Power BI tranforms your reports into rich visuals for executives. There are mobile and desktop mode.
Want to see ABUX in Action?
Pre-built planning and analyzing boards
ABUX offers pre-built templates, which cover a set of key decision-making processes that are standardized across different industries and organizations.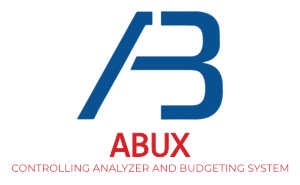 Your Challenges with Excel -

Our Solution with ABUX
As we handle more information, faster reaction, ad-hoc analysis are expected Excel is not always capable to serve this environment. ABUX can eliminate technical borders of Excel and resolve many shortcomings and difficulties of planning and reporting processes.


Plan process with Top-Down and Bottom-up


Data validation - Drilling till the source data

Altering and loading data directly through Pivot table

Switch between facts and plans


Manageable size of reports

Planning in lockstep - align isolated department

Customize report promptly – Do it your way
Frequently Asked Questions
Our quick-answers guide for ABUX
Want to see ABUX in Action?